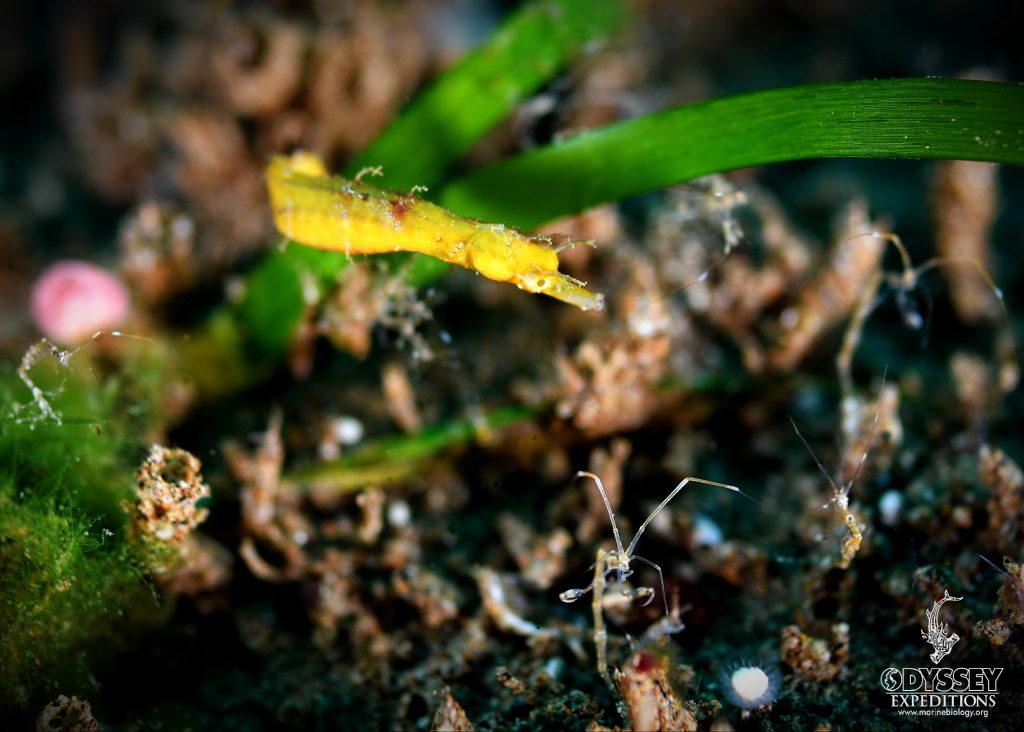 Shortpouch pygmy pipehorse – Acentronura tentaculata
Like a combination of seahorse and pipe fish: their tail is prehensile and used for anchorage, winding itself around pieces of algae or seagrass. However, the front part of the body is typical pipefish, with the head and body held in line rather than bent through and angle like seahorses. There is sexual dimorphism and the males are somewhat larger and more robustly built than the females. Because they are so small, the brood pouch is also large in proportion to the body, giving the males a somewhat more seahorse-like appearance than the females which have the typical slim linear form of pipefishes.

Skeleton Shrimp – Caprellidae family – amphipods. Females carry large number of transparent eggs inside the brood pouch (located on her abdomen) until they hatch.
Etymology:
Acentronura: Greek, a = 'without' + Greek, kentron = 'sting' + Greek, oura = 'tail'

Pookey the pygmy pipehorse gathers his skeleton shrimp friends around to retell the great story of the day that Jon descended down from the waters above. Jon was dressed in a dark fake skin that was stretched very tight. Attached to each of his rear appendages were awkward rubber fins. His blue eyes were concealed behind a layer glass. A great hissing sound followed by a rumble of bubbles escaped from around Jon's mouth in a rhythmic pattern. Hssssss blublublublublublub Hsssssss blublublublublublub! He carried in front of him a great contraption that flashed a very bright light from the orbs at the end each of its antennas - one on each side of a single unblinking eye. Jon stayed only a few moments peering into this contraption and pointing that mysterious eye to and fro. FLASH Hssssss blublublublublublub…..FLASH Hssssss blublublublublublub. FLASH Hssssss blublublublublublub. Then, Jon swam off at a great speed. It was indeed a marvelous day.